TBC #001 Overcoming Knowledge Ignorance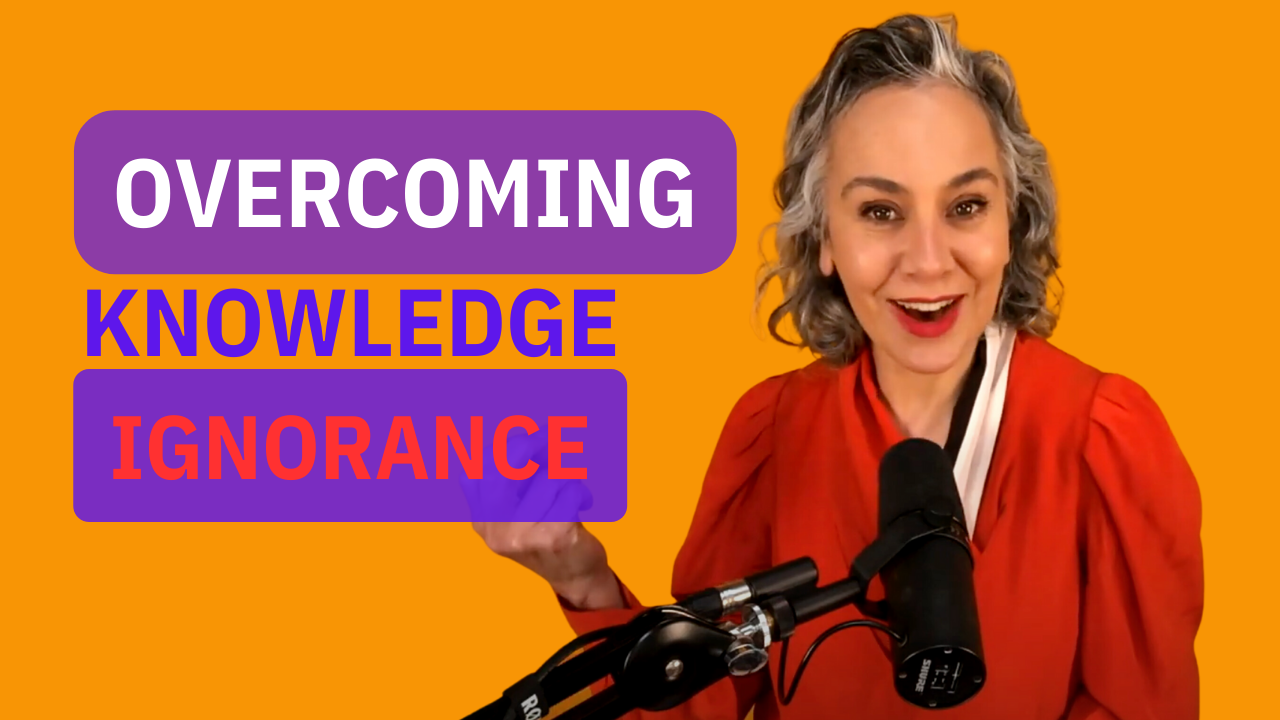 Read time: 3 minutes.
I talk to a lot of people who are brilliant at what they do, some have inboxes full of requests for information, help, insight, others don't. Nearly all have one thing in common:
A crippling aversion to "publish" a piece of content.
It could be a LinkedIn post, a newsletter, anything that says to the world:
They don't realise that what they know is worth a lot -
to people who want what they have,
and to themselves - because they can build a life based on sharing it, and be paid for it too - eventually - if it's what they want (it's what we all want).
I call this Knowledge Ignorance.
Let's break down what's going on, and why it's important to overcome.
The Struggle
I've come to realise that along with 'Knowledge Ignorance',
they don't believe they have the right to share.
These are real things people say to me:
"Who am I to publish?"
"I'm nobody."
"I'm not a guru."
Is this you?
The Loss
You might be on social media - sharing, celebrating, commenting… on what other people do, which is lovely - but:
→ It won't grow your personal brand.
→ It won't establish your credibility and authority with the right community.
→ Which means you're losing out on opportunity.
Now & Later
▶︎ The opportunity of 'now' - things that could come your way, like paid engagements, consulting, being invited to participate.
▶︎ The opportunity of 'later' - launching a product or service to a community that wants more from you.
▶︎ Which means you lose out on options in life, and don't have control over how you earn, and live, in the long run.
It means you will never reach your full potential, or live your fullest life.
The Transition
If this is you, I urge you to get out of your head, and move out of your way.
It's is a useless statement without including actionable, simple things you can DO to transition from
'I don't know enough' to 'I share what I know' (and I love it!).
3 Thoughts:
Today I'm sharing 3 thoughts that I hope will help you do this.
#1 Meet yourself where you're at.
There will always be people ahead of you,
and others behind, who would LOVE to be where you are, know what you know, be able to do what you do.
Stop looking at what you don't have (the people ahead) and pay attention to where you're at, and to the people who want what you have.
Lean into it.
#2 Work with what you've got.
Don't read another book, listen to another podcast, learn another skill. It's taking you away from doing.
Instead, share what you know and do.
Start building your base as a known expert.

Start curating and creating your community.

Experiment, and learn by doing.
#3 Be kind to yourself.
When you start sharing what you know and do, you're doing 2 things at the same time, which is tough.
Training yourself - to show up in a different way, to do something that's not comfortable.

Training people - to see you in a different light, to interact with you in a different way.
Sometimes it will be a …
→ Disappointment You won't get the bounce or response you want.
→ Frustration - people will still want the other you - the one who would have said 'yes' to things that don't serve what you're building now.
Eventually, it will be a thrill - finding your 'voice', and sharing it comfortably.
This is Critical:
The most important thing is: START.
The second most important thing is: STICK WITH IT. Even when it sucks.
Especially when you want to give up… because:
5 Takeaways:
1. Your knowledge is needed by so many.
2. You are entitled to share what you know and do. Permission -free. (I'm thinking about writing about this - let me know if you're interested in knowing more. Just hit reply to this email).
3. The journey starts with believing in yourself, your worth, and that what you know - right now - IS good enough.
4. Be consistent.
Consistent with what you put out - so people associate you with it.

Consistent with how often, and where, you do it - so they know what to expect from you.
5. Your life will change. Not overnight - but it will happen.
It's ok to be brave and scared at the same time... I'm rooting for you and know you can do it!
___________________________________________________________________________________
Whenever you're ready, there are 4 ways I can help you:
1. Learn Communicate - An online programme with weekly live support to get you communicating with impact & influence
2. SHE Strategy - If you're a woman who wants to be Seen, Heard, Earning more, in a female only environment, includes weekly live support.
3. MT4 Method - If you are a PR or Comms professional and want your clients to be journalist-ready, and communication superstars, plus weekly live support.
4. 1:1 Coaching. Sometimes you want to move at warp speed. I take on very few clients a year.